Enjoy a 10% off order of $100 + FREE Shipping when using this coupon code
Blank laser check security features include thermochromic ink, microprinting, pigment-based ink, inventory control numbers, and more. Click here to see a list of all TruPrint High-Security Check security features.
Bottom Burgundy Scallop Void Blank Laser Check
Quality. Security. Versatility.
11" TruPrint High Security Laser Check Stock with a vibrant burgundy wine mini-scallop void design, features a bottom check position with perforations at 4″ & 7 1/2″. This new check stock design includes more than 15 security features and meets strict ANSI standards. The security enhancements in this stock makes this check difficult to alter and provides businesses with the flexibility to do both accounts payable and payroll. Security features include thermochromic ink, microprinting, pigment-based ink, V-DOT technology, and more.
All TruPrint Check Stock is packaged in reams of 500.
Product Details
We take security to the next level with our TruPrint Blank Check Stock, with more than 15 security features and meets the strict ANSI requirements. The security enhancements make this check difficult to alter and provide businesses with the flexibility to do accounts payable and payroll with one check. TruPrint High Security Checks are guaranteed to be compatible with QuickBooks Online and other popular accounting software programs!
TruPrint High Security Check Stock provides:
Compatibility. Works with all standard Laser and Inkjet printers.
Protection. Highly advanced security features that surpass bank recommendations.
Savings. Save 60-85% per ream compared to pre-printed check stock.
Specifications
Quantities: Start at 500 checks
Size: 8½" x 11″
Check Position: Bottom
Color: Burgundy
Panto: Scallop Void
Perforation Positions: 4˝ & 7 ½˝
Paper Weight: 24-lbs.
Border: Microprint Warning Band with Padlock Icon
Check Security Features
Take check fraud protection to the next level with over 15 check security features including:
Visible security features: heat-sensitive ink, fluorescent fibers, true Fourdrinier watermark, chemical stain, security warning band border, digital verification grid, and more.
Covert security features: thermochromic ink, toner adhesion, void pantograph, V-DOT technology, microprint, and more.
Shipping and Handling
Free Shipping and handling is included on all orders of TruPrint Check Stock placed from our online store. Shipments are sent via UPS ground within 48 hours of placing your order.
Blank Laser Check Security Features
1. V-Dot Technology
Cluster of yellow shapes in the upper left corner of the check. Triggers the anti-copy chip in most color printers. When the chip is activated, the copy becomes unusable.
2. Toner Adhesive
Prevents erasure and tampering with laser-printed data.
3. Digital Void Pantograph
The word "VOID" will appear when this document is photocopied, making it more difficult to alter.
4. Security Warning Band Border
The most popular security border available. Includes the padlock reflecting there are security features added to this document.
5. Padlock Icon
The Padlock is a universal symbol to assure banks and financial institutions that security features have been integrated into the check stock to prevent check fraud and alterations. A list of the features are listed on the back of the check.
6. Fluorescent Fibers
Fibers are added into the check stock that become visible under a black light. If fibers are not visible, there is a good chance the document is fraudulent.
7. Heat Sensitive Thermochromic Icon
Heat Sensitive Thermochromic Icon is displayed as a red key on the lower middle of the check front that, when subjected to heat or touch, will disappear.
8. Chemical Stain
Sensitized paper reacts to chemical attempts to alter the check.
9. Microprinting
Microprinting is used in various areas of the check. When viewed with magnification, a word or phase appears on the check. The microprint will be displayed as a solid line when photocopied.
10. Pigment-based Ink
Pigment-based ink printed areas will NOT wash away when chemical alteration attempts are made.
11. Padlock Icon on back
The padlock on the back of the check stock displays the security features, both visible and concealed for banks and financial institutions to determine the efficacy of the check.
12. True Watermark
A diamond-shaped watermark can be seen only when the check stock is held at a 45 degree angle. It cannot be altered or reproduced.
13. Screened check back
Deters duplication. Screen does not reproduce when photocopied
14. Mobile check backer
Check the mobile checkbox on the backside of the check if you would like to deposit the check using your mobile device. Simply snap a photo of the check front and back and submit the check for deposit using your bank's mobile banking app.
15. Digital Verification Grid
The verification grid appears on the original document, but disappears when photocopied.
16. Non-negotiable phrase
The non-negotiable phrase on the check back prevents alteration of the check.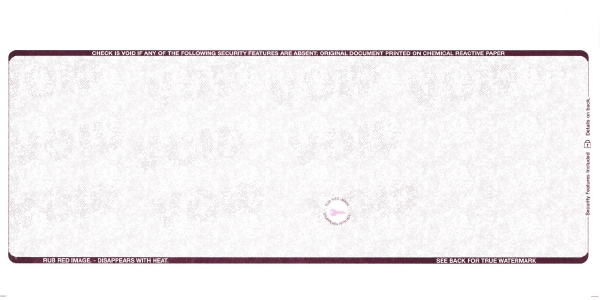 Security Warning Band Border
Heat Sensitive Thermochromic Icon
Digital Verification Grid
​Check 21 allows financial institutions to truncate checks and convert them to images during the clearing process. AP Technology check stock meets ANSI standards for check imaging compliance. The key areas of interest on the check stock (Date, CAR - Convenience Amount Rectangle, Payee, Legal and Signature) have successfully passed RDM qualifier testing that requires defined print contrast levels and background print that will not interfere with handwritten or printed data.
Still Need More?
If you don't see what you're looking for, please contact us. We offer custom ordering, free sample packs, and more. One of our excellent customer service staff will get back to you shortly!