CHECKRUN FOR QUICKBOOKS® ONLINE
Better Business Bill Pay Starts Here.
Checkrun is the most secure, convenient, and cost-effective way to pay from QuickBooks® Online. Real-time check approval and signing right from your phone. You can manage multiple accounts at once, and the power of Positive Pay is built-in to protect your check payments from fraud.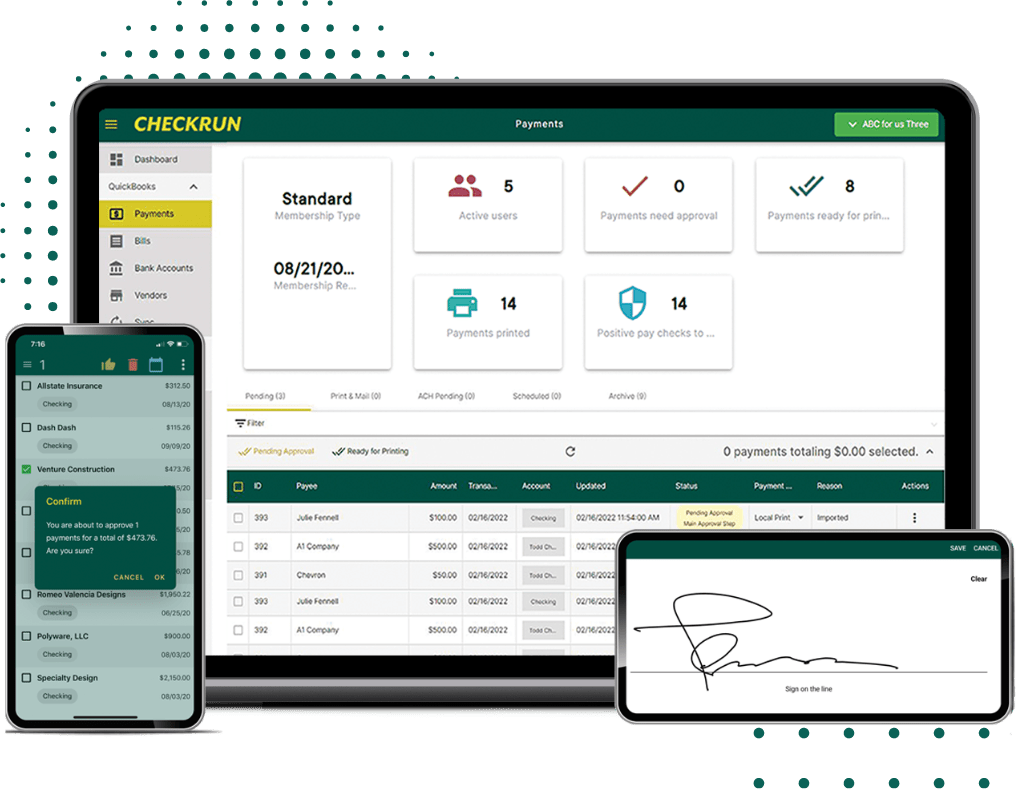 Integrates seamlessly with QuickBooks® Online
Sign checks remotely with the Checkrun Mobile Approval App
Built-in fraud and tamper protection
Manage multiple accounts with a single login
Watch How Checkrun Can improve Your Payment Processes!
Upgrade your check payments with Checkrun, the mobile and cloud-based application for QuickBooks® Online users that provides businesses a secure, anytime-anywhere payment workflow for the most modern way to cut checks.
Boost efficiency with AP on one, secure platform
Take control of your back office with time-saving automation, online check printing, and remote access. Gain internal processing efficiencies, pay bills faster and reduce trips to your bank.
Streamline the AP process
Increase efficiency and save time when you automate payments—from automatic sync with QuickBooks Online to auto-remittance advice.
Simplify payment approvals
Use custom rules to automate, route, and customize approvals to the right team member at the right time. Approve and pay bills faster, with fewer resources.
Manage payments on-the-go
The Checkrun Mobile Approval App gives the freedom to manage, approve, sign and pay vendors from anywhere, at any time. 
Speed. Security. Scalability.
This is bill pay made easy.
Improve cash flow, pay bills faster, and get more done — all with Checkrun.
Stay in sync with QuickBooks Online
Our two-way sync keeps your QuickBooks Online account up-to-date and reduces the time spent on manual, tedious tasks related to bill processing. 
N
Manage payables with ease and streamline approvals
N
See a complete audit trail for every payment, at every step
N
Eliminate dual data entry hassles and errors
N
Easily send images of printed checks to your QuickBooks® Online account for record-keeping
Simplify AP with a cloud-based system
Tasks like getting payments approved and signed, toggling between programs and accounts, or spending hours preparing audit reports shouldn't hold your team back. We've built a powerful, easy and secure solution that helps businesses like you, start, grow and scale your back office.
Manage check payments and printing via the cloud or mobile
Add multi-layered security and digitally-driven convenience to check payments in minutes through our cloud-based or mobile solutions. No software installation, no technical expertise required, no heavy lifting.
Single login to access all of your client accounts
Checkrun supports quickly toggling between all of your clients Checkrun memberships with a single login.
Eliminate the need to securely store each clients' preprinted check stock
Checkrun supports printing on your current QBO preprinted checks or blank check stock. When using blank check stock all client specific data is printed along with the check, and the same check stock can be used for all of your clients.
Guard against fraud with Positive Pay Services
Checkrun is the only check management application to integrate services for Positive Pay—a powerful fraud prevention system offered by the nation's leading commercial banks.
Gain greater control with automated approvals – anywhere
Easily set up user roles to route and customize approvals to the right team member at the right time. See all payment activity at a glance through the Checkrun dashboard or Mobile App.
Approve checks anywhere with the Checkrun Mobile Approval App
The Checkrun Mobile Approval App makes it possible to approve and sign checks with a digital wet-signature anytime, anywhere from your mobile device. No more tracking down approvers and no more rushing back to the office to sign and cut checks.
Stay on top of your workflow with auto-notifications
Checkrun email and push notifications instantly let you know when your review, authorization or signature is needed.
Keep your circle of trust small and honest
Checkrun's custom workflows and role management capabilities help tighten your internal controls. Mitigate additional risk by eliminating the need for excess signers, signature stamps or signed blank checks with the Checkrun Mobile Approval App.
Never drive to a client site to get checks approved and signed
QBO allows you to upload supporting attachments for payments. These attachments are commonly bills and invoices and are pulled directly into your Checkrun payment. Approvers can review support materials within the Checkrun app without a need to print out physical documents. True Anytime, Anywhere check approving and printing.
Expand the way you pay with flexible payment options
Pay every business expense online. Choose to make payment by ACH bank transfer, or by paper check. Your vendor doesn't need to sign up in order to receive secure payments and ensure remittance. 
Print a more secure check
Checkrun adds unprecedented security to your printed check. Whether using preprinted check stock or our Truprint™ blank check stock with 15+ built-in security features, Checkrun enhances your check with additional security.
Print checks when and how you want them
Whether it's QuickBooks® pre-prints or blank check stock, Checkrun accommodates multiple print layouts, colors, and logos so you can customize your checks to suit your needs.
Skip self-printing altogether with Print + Mail
Approve and sign checks through the Mobile Approval App, choose the Print + Mail option, and we'll take care of the rest for just $1.50/check.
Customization built in
Protect against tampering with customization options such as logos, watermarks, and a secure QR that includes payment information allowing payees to validate your check's authenticity.
Better business bill pay starts here.
Use Checkrun to manage and pay vendors by ACH or paper checks
— from one, secure platform. You choose.
Handle check payments seamlessly – without the hassle of manual processes. Carry out your payments with ease and speed. Process your payments faster and get the flexibility to make check payments from anywhere.
Easily send business payments and echecks, online. Checkrun provides the simplest way to set up your account vailidation process for ACH. Manage & track all your outgoing payments and bills in one place.
A Plan For Every Business
Designed to fit the needs of your business, at prices that won't break the bank.
Ideal for businesses looking to minimize time while maximizing cash flow. Pay upfront and save 25% annually.
Perfect for small businesses with a growing number of finance tasks and bills. 
Manage every payment on-the-go
Eliminate the tedious paperwork and chasing ink-on-paper signatures and approvals. Enjoy the freedom of remote accounts payable management – approve and sign checks anytime, anywhere, from any device.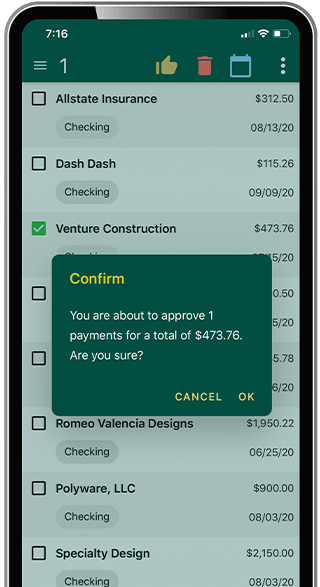 Don't just take it from us. 
"This software was the critical tool that allowed me to make check payments when geographically separated from the company's bookkeeper. This tool provided all the necessary resources to effectively manage this part of the business."
"We all work remotely and Checkrun has a mobile app so we can approve and sign payments right from the app. The signature shows up on the check and the app keeps track of all workflow steps so we never miss a payment. They also have a print and mail service or you can print checks out yourself. It is a nice app that works for us."
"I'm a bookkeeper and I manage several clients. Checkrun has been a huge timesaver for me. My clients can approve and sign payments remotely from their phones without me visiting their remote locations. Setup was fast and easy."
Get In Touch or Book a Demo
Join the hundreds of businesses choosing Checkrun to simplify accounts payable and business bill pay.