Introducing TruPrint Blank Checks
Blank Stock Laser Business Checks
Multiple Options
Choose from multiple check layouts, attractive designs and colors
Free Shipping
We offer free shipping on all orders within the USA
Lower Fraud Risk
Premium check paper, loaded with security features and bank approved
100% Compatibility
TruPrint blank checks are compatible with every available accounting software package
TruPrint High-Security Check Stock
Quality. Security.
Versatility.
TruPrint High-Security Checks
All Blank Laser Check Stock
Blank Checks, Middle Format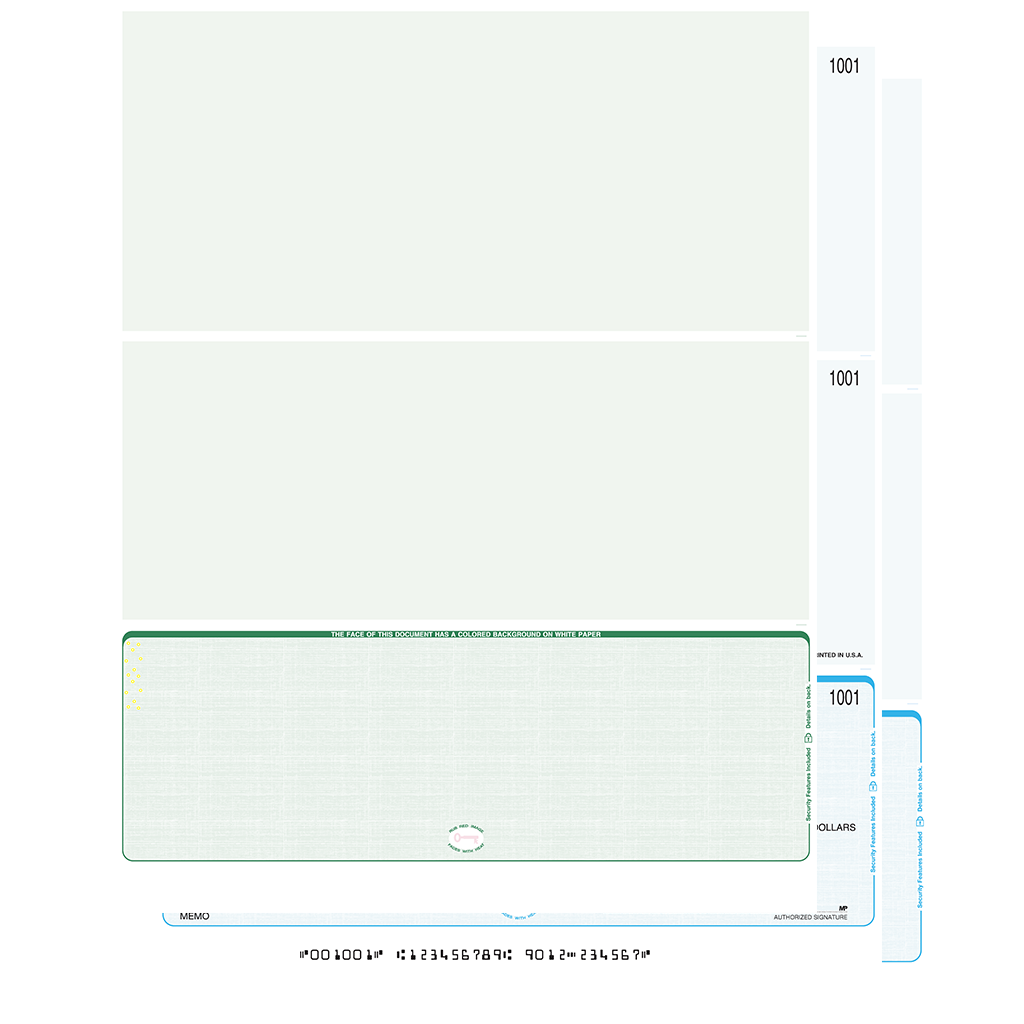 Blank Checks, Bottom Format
Why choose TruPrint check stock?
TruPrint checks offer the quality and consistency you need to print your own business checks. These affordable, secure blank laser checks help you manage all your accounts with one check stock. Multi-purpose business checks cost less than custom printing, and work easily with your accounting software. 
Stay in control
Designed for use with software that prints the entire check, bank information and MICR numbering. Keeps account numbers confidential until printing.
Protect yourself
Over 15 advanced security features including: chemically sensitive paper, microprint border, erasure protection, security screen, watermark and warning box. These help detect and deter check fraud, duplication, and altering.
Simplify your payables
Great for multiple accounts and supports both accounts payable and payroll. By using just one check stock, you can simplify your business checking and save time, money and space.
Print on demand
Versatile sheet format fits all standard laser and inkjet printers.
TruPrint check stock reams are individually wrapped to ensure maximum performance, shelf life, and proper MICR toner transfer.
All TruPrint checks are designed with over 15 built-in advanced security features to prevent check fraud, duplication, and altering.
TruPrint offers 24# long-grain construction to reduce check stock curl tendencies and prevent printer jams or premature drum failure.
Boost your business and brand 
Custom printing available
Use your business checks to promote your unique company branding.
High-security business checks
The TruPrint Security Check Stock is unmatched in fraud protection. Build the strongest defense against payment fraud and get maximum check security.
Check printing solutions
Checkrun offers check writing and printing services for all your business needs. Print checks onto blank check stock, print your company logo, add signatures to checks, and do it all from multiple bank accounts in one place.
Same-day print and mail service
Trustworthy online check printing and check mailing service from start to finish. Approve and sign payments with Checkrun and we print and mail them – on high security check stock – so you don't have to.
Starting at just $43/ream, Checkrun's TruPrint blank check stock will dramatically transform the way you process your accounts payables. With an ability to work with most accounting systems, TruPrint Check Stock cuts the costs of your check processing and increases your bottom line by saving you time.
Professional checks that help you pay fast
Get started and save big with 10% off orders of $100 or more + FREE SHIPPING. Use the code below at checkout to redeem.