Welcome to Truprint business checks
High Security Blank Laser Check Stock
Blank check stock packed with features that deliver the security and convenience your business needs - at an affordable price.
TruPrint High Security Checks
Top Format Blank Check Paper
Middle Format Blank Check Paper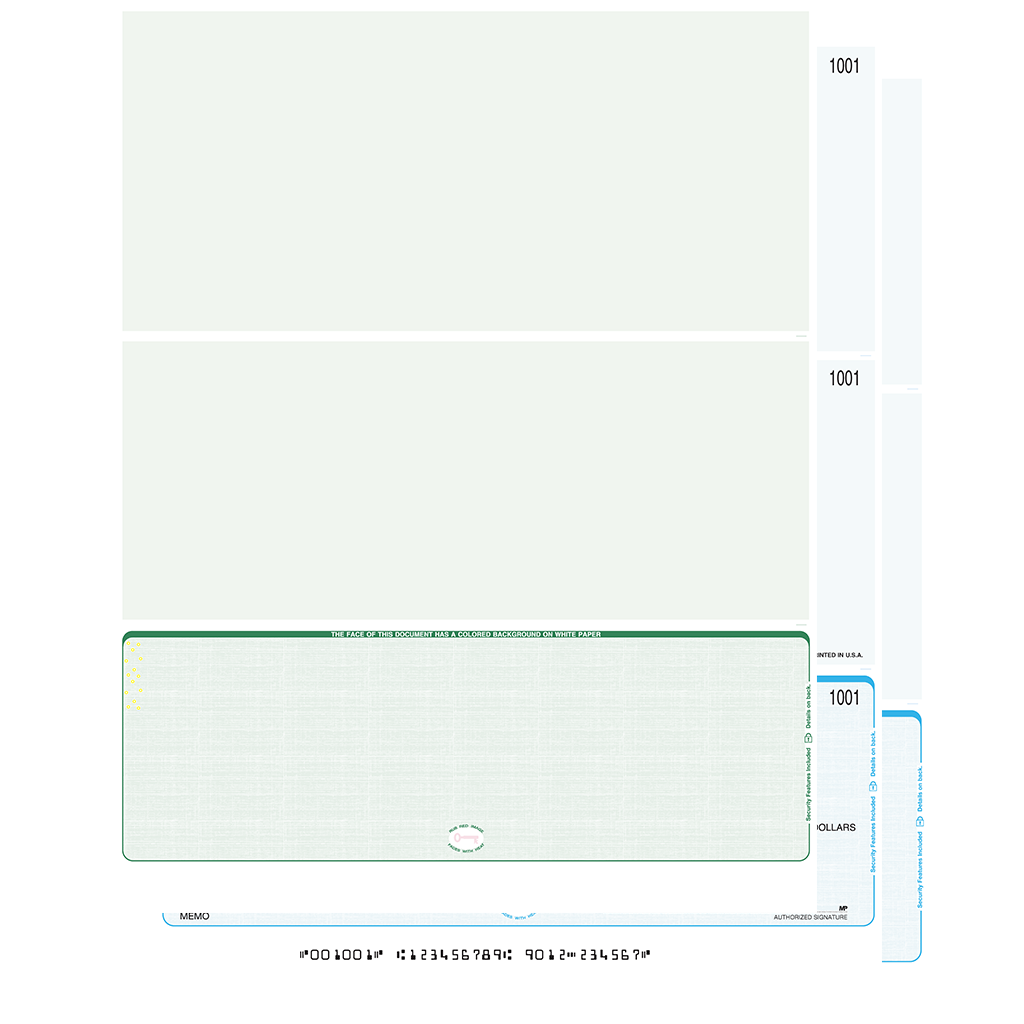 Bottom Format Blank Check Paper
HIGH SECURITY BUSINESS CHECKS
The security, quality, and versatility you can count on.
Our High Security Blank Checks offer the quality and consistency you need to print your own business checks and transform the way you process your accounts payables.
These affordable, secure blank laser checks help you manage all your accounts with one check stock. Multi-purpose business checks that cost less than custom printing, and work easily with your accounting software. Cut the costs of your check processing and increase your bottom line - while saving time.
Bank Approved
Our checks include advanced security features that surpass bank recommendations.
Multiple Options Available
Choose from multiple check layouts, attractive designs and colors that reinforce your brand.
Free Shipping, Fast Delivery
We offer free shipping on all orders within the USA. Shipments are sent via UPS ground within 2-3 business days of placing your order.
Guaranteed Compatibility
We guarantee our checks are compatible with your accounting software and work with all standard Laser and Inkjet printers.
Professional checks at a low price
Blank check stock designed for all business needs
Enjoy a new way to boost your business and brand.
Engage your business customers and vendors, reinforce your brand, and put your checks to work for you. Showcase your brand with the highest quality checks that are professional and specific to your business. Our high-security checks are available in several convenient designs and layouts. 
Protection your business, clients, and vendors can trust.
Security is important to you and your business — and it's our priority. Checkrun gives you peace of mind with industry-leading security solutions, from secure packaging and versatile sheet formats, to multiple layers of defense that meet strict ANSI standards. Our checks come with proven check security features that detect and deter check fraud, duplication, and altering. We help keep your business safe and secure so you can stay a step ahead of criminals.
Business checks that help you pay fast.
Our checks provide the flexibility and convenience to do both accounts payable and payroll with the same check stock—and is guaranteed to be compatible with QuickBooks Online and other accounting software programs. Easily print the entire check face, including the MICR line, with our high-security checks.
Stock your office before you run out and save money.
We know how important it is to make sure your office has the supplies it needs to keep business running. That's why we carry a variety of check stock and make it easy for you to order online. Our blank check stock is not only secure and affordable, it helps free up time, inventory space, and expenses without the hassle of dealing with your bank. Cut costs while increasing your check processing productivity with Checkrun. Let us help you keep your office running smoothly and efficiently with our blank check stock.
We offer free shipping on all order within the USA. 
Shipments are sent via UPS ground within 2-3 business days of placing your order.
We offer the same low pricing to both new customers and established customers. Compare our prices. You'll see how you will save now and save later.
Frequently Asked Questions
What is TruPrint check stock?
Checkrun's TruPrint blank check stock means no longer having to carry the risks of storing pre-printed checks. With over 15 built-in security features, you can customize and choose from multiple print layouts, colors, and logos. No more stressing about check fraud and risk. We've added industry-leading advanced security features to our TruPrint Blank Check Stock that guard against fraud and liability.
What security features to prevent fraud are included ?
Our TruPrint Security checks feature the latest technology to help prevent and detect attempted fraud. Our High Security check stock features industry-leading security features all designed with one goal in mind – helping to keep you, your business and your finances protected from fraud.
To prevent check fraud, risk, and the liability of storing costly pre-printed stock, TruPrint blank check stock contains a combination of both visible/concealed – a paper/ink-based security feature. This combination provides protection from duplication and alteration.
Do you have my check format?
Yes! We have your business checks!
We carry multiple check formats and layouts (top, middle, bottom) that are compatible with all accounting programs.
High security business checks are delivered as an 8½" x 11" sheet. The actual check format differs with each check layout (top, middle, bottom). Perforation positions include: 3 1/2" & 7", 3 2/3" & 7 1/3", 4˝ & 7 ½˝, 4″ & 7 1/2″, Single Perforation at 7.5″.
Are you ready to place your order!? Order Checks Here.
Is TruPrint blank check stock compatible with my printer?
Our TruPrint check stock works with all standard Laser and Inkjet printers, as well as with Checkrun's local printing solution.
Is TruPrint blank check stock easy to use?
TruPrint blank check stock can be easily customized to fit all of your business needs; it can be used for both accounts payable and payroll.
Get 10% off your first order.
Get started and save big with 10% off orders of $100 or more + FREE SHIPPING. Use the code below at checkout to redeem.
If you don't see what you're looking for, please contact us. We offer custom ordering, MICR Toner, Envelopes, tax forms and more.