Easy spend management for nonprofits.
Powerful, simple, and secure. Checkrun gives you the tools and intelligence to automate the entire bill pay process – from any device – and take your nonprofit to the next level.
Why nonprofit organizations choose Checkrun.
Checkrun's simple and secure, nonprofit payment processing solution saves you time managing your payment approvals, so you can spend more time helping the community.
Streamline the AP process
Automate everything from approval workflows to remittance – in one place. Save time and eliminate manual data entry with our 2-way QuickBooks Online sync.
Expand the way you pay bills – pay electronically with ACH or even send checks. With Checkrun, business payments are easier, faster, and more secure.
Manage payments on-the-go
Expense management – at your fingertips. Set custom controls, approval workflows,  and user roles for every team member from anywhere.
Improve control and track team activity
Transparency is essential for securing and keeping donors and sponsors on board. With Checkrun, you can quickly see and know what's happening across your nonprofit organization in one easy-to-use dashboard and mobile app.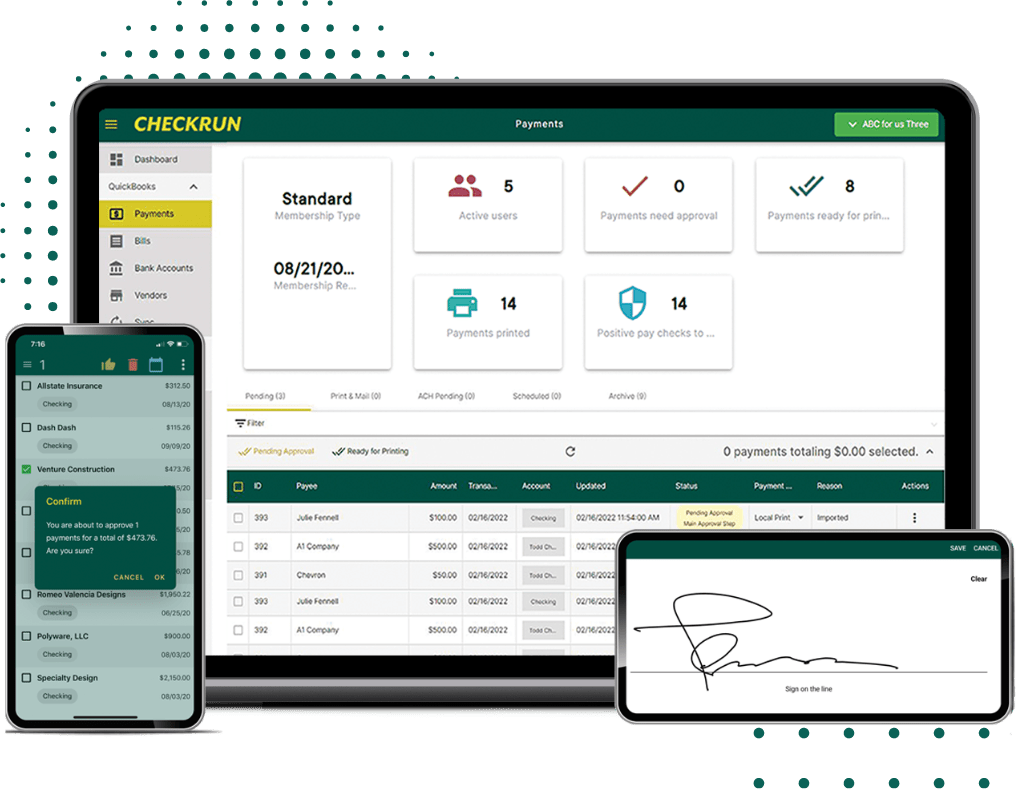 Gain greater control with automated approvals – anywhere
Create automated workflows with multi-step approvals based on amounts, vendors, approvers, and more. Custom workflows and role management capabilities help tighten your internal controls and ensure the proper procedures are in place for your nonprofit organization.
Stay connected with your team from anywhere
Checkrun is cloud-based and a mobile app, so you can update your nonprofit's accounting data anywhere, anytime. Avoid cash flow problems for your organization, by staying ahead of unpaid and overdue invoices from the mobile approval app. You can even approve and sign checks right from your phone.
More payment flexibility for everyone
Pay your vendors faster, straight to their bank account, and reduce trips to the bank. ACH payments process faster than checks so you can hold onto your cash longer. Vendor only accepts checks? No problem. Print and mail business checks online or we'll send them on your behalf, the same-day.
Be confident your payments are secure
Protect your organization and your donors with industry-leading fraud prevention tools. Checkrun backs up your payment data and protects it with multiple layers of security including positive pay. With enhanced security and two-factor authentication you'll add a level of protection against unauthorized or fraudulent payments.
Our mission is to help yours.
With features like payment approval reminders, same-day print and mail, and remote check signing, you can invest more time making a difference and less on your nonprofit's accounts payable solution.
Automatically pull in data from your QuickBooks Online account, as you eliminate manual work, double data entry and free up time for strategic planning.
Approve and pay bills faster with a wide variety of flexible payment options, including ACH bank transfer and check. Gain more control for how you pay.
Set your internal controls, manage workflows, establish approval parameters, and gain full visibility into all of your payments – in real time.
A built-in audit trail keeps track of every interaction a team member has with a bill – the best way to keep payments secure.
Manage AP on-the-go for iOS and Android. Manage, approve and sign your organization's check payments while you're on-the-go with the Checkrun mobile approval app.
Print checks on Intuit pre-prints or blank check stock. With Checkrun, a computer and a printer is all you need to create professional business checks at home or office.
Checkrun's same-day print and mail service utilizes our TruPrint blank check stock, making it easy and affordable to print and mail professional and secure checks for your organization.
Need to set different permissions for different team members? Or, manage multiple accounts throughout the day? Checkrun can do that.
Protect your organization and your donors with industry-leading check fraud prevention tools. Positive pay and 15+ advanced security features built directly into Checkrun to defend against fraudulent threats.
An accounts payable solution that gives back
Save 10% on Checkrun for registered nonprofit organizations.
Sign up below for a 15-day free trial and annual business subscription. At the end of your free trial, your 10% discount will be automatically applied.
This offer is only available to registered nonprofit organizations. After signup, contact us at [email protected] with your proof of status and charity number to receive the discount.
Companies like yours are successful with Checkrun.
Trust is important to us!
"This software was the critical tool that allowed me to make check payments when geographically separated from the company's bookkeeper. This tool provided all the necessary resources to effectively manage this part of the business."
"We all work remotely and Checkrun has a mobile app so we can approve and sign payments right from the app. The signature shows up on the check and the app keeps track of all workflow steps so we never miss a payment. They also have a print and mail service or you can print checks out yourself. It is a nice app that works for us."
"I'm a bookkeeper and I manage several clients. Checkrun has been a huge timesaver for me. My clients can approve and sign payments remotely from their phones without me visiting their remote locations. Setup was fast and easy."