Print business checks

online in seconds.
Create, print and mail checks with ease. Checkrun's cloud-based check printing software can save you time, lower accounting costs, and improve security for all your check payments.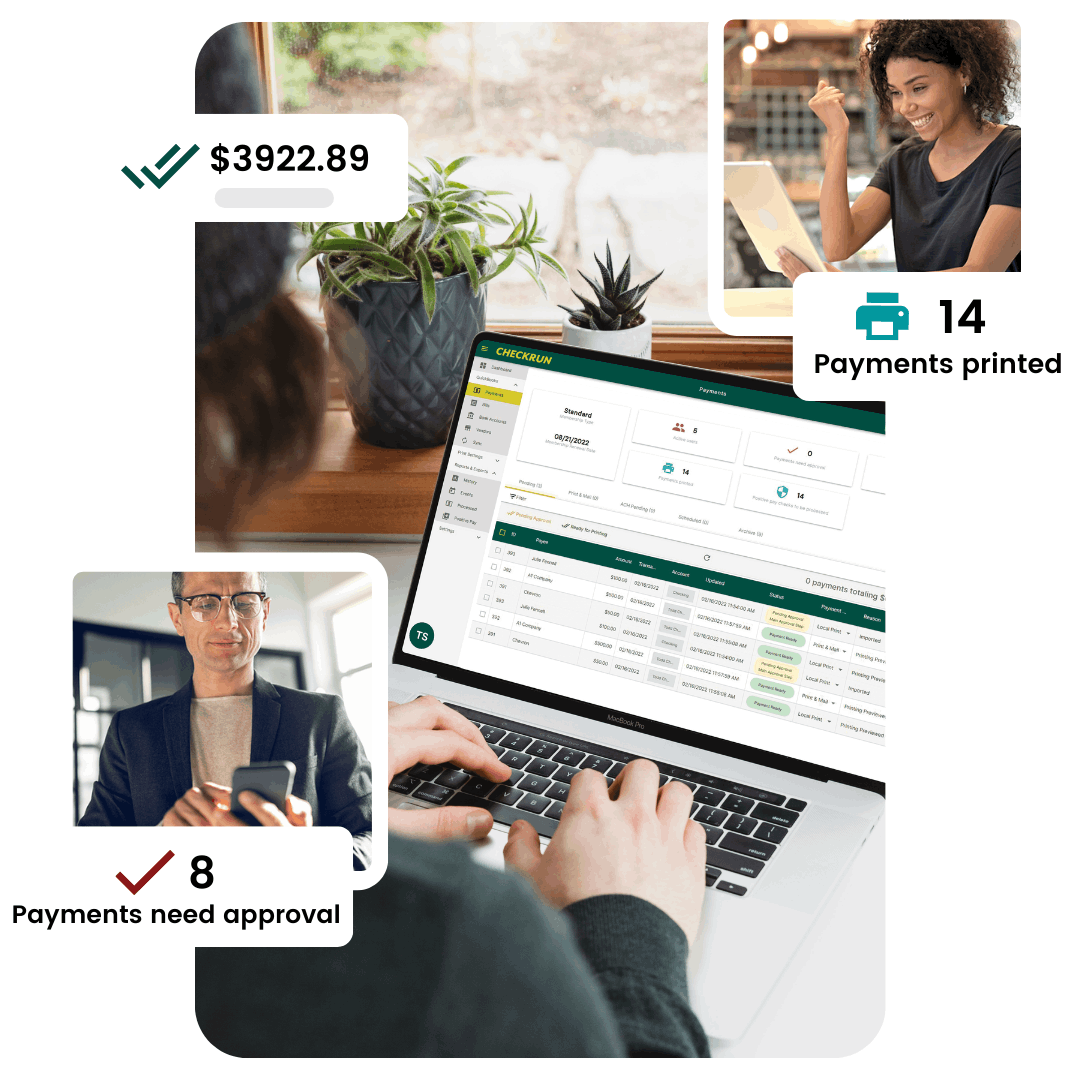 Easily print business checks online, from anywhere.
Whether you need secure check printing or a full service printing and mailing service, Checkrun has the best solution. From our robust printing process to security features and user management tools, Checkrun puts you in control.
Print checks yourself
Checkrun's online check printing software lets you print checks on Intuit pre-prints or blank check stock. With Checkrun, a computer and a printer is all you need to create professional business checks at home or office.
…or let Checkrun do it for you.
Automate the mailing of check payments to vendors with Checkrun's Print and Mail services. Whether it's just one or 1,000 checks: we print, stamp, and mail – on high security check stock – so you don't have to.
Discover the benefits. 
Checkrun offers check writing and printing services for all your business needs. Drive down the cost and time your team spends on check printing with our trusted, secure and reliable solution.
Make faster payments.
Checkrun improves the efficiency of the entire check printing process by 50%. Print checks onto blank check stock, print your company logo, add signatures to checks, and do it all from multiple bank accounts in one place.
Eliminate check fraud.
Decrease the risk of check fraud with MICR and laser check security. Whether using pre-printed check stock or blank check stock, protect your business against tampering with advanced options such as logos, watermarks, Positive Pay, and more.
Drive down costs.
Reduce the management, overhead, and resources spent printing and sending checks. Checkrun saves you money by streamlining your paper use and inventory space.
Easily print paper checks – from anywhere.
Print and send checks from the office, from home, from anywhere with Checkrun. Separation of controls and workflows are built into the platform – making it easy to manage your check payments. Print checks your way, choose from multiple print layouts, check features including logos and signature placements to customize your checks to suit your needs.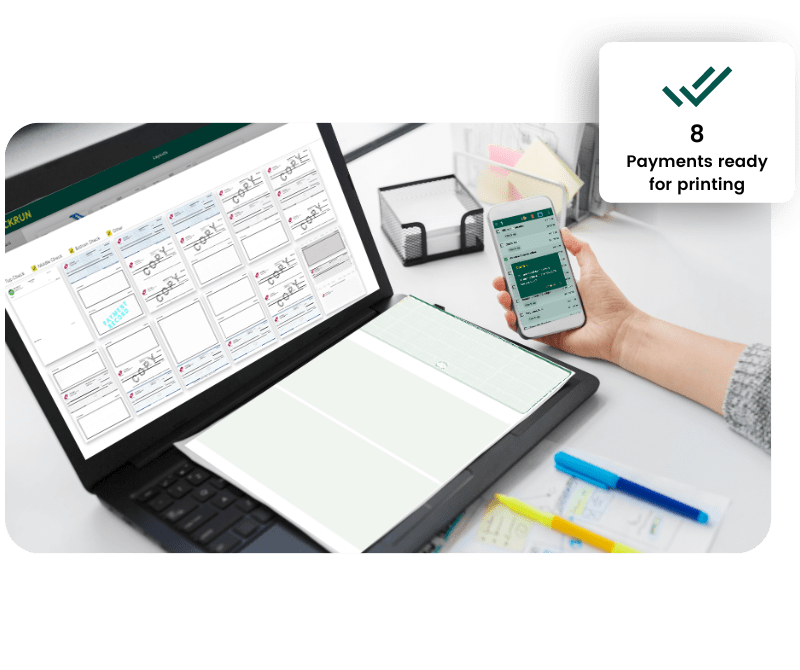 Automate the entire check printing process.
Eliminate tedious paperwork and chasing ink-on-paper signatures and approvals. Easily approve, sign, print, and mail paper checks anytime, from any device. By streamlining the payables process, you can more easily and securely manage your cash flow.
Reduce check fraud with blank checks.
Businesses can save up to 80% of check printing costs by switching to blank check stock. With no bank information pre-printed on the check, blank check stock is more secure and less expensive than pre-printed QuickBooks checks. That's why Checkrun's Print and Mail service is done on TruPrint check stock, the best high-security checks in the industry.
Enjoy 2-way sync with QuickBooks Online.
Checkrun integrates seamlessly with your QuickBooks Online account to streamline the entire AP process. Access your payment dashboard to view bills, check payments, reports, vendor information, and more. Keep track of payments, attachments, and archived check images. Always online, always available, from any device.  
Discover the power of
TruPrint Blank Check Stock
TruPrint provides the most trusted check paper for all of your business needs. You can choose from a variety of styles, colors and layouts – making it easy to create the perfect check. All TruPrint checks are secure, personalized for your business, and will save you money.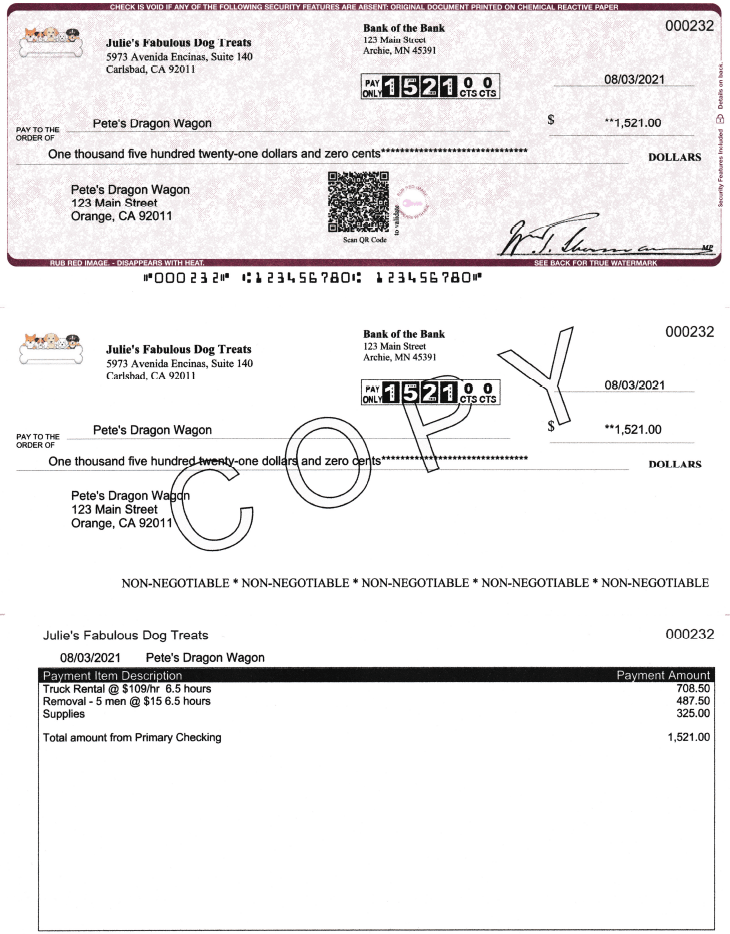 N
Over 16 industry-leading security features both on and off the check that exceed bank recommendations.
N
Easily customized to fit business needs; can be used for both accounts payable and payroll.
N
Works with all standard Laser and Inkjet printers, as well as with Checkrun's local printing solution.
N
It's affordable! You can save 60-85% per ream compared to pre-printed check stock.
Run your business smarter with Checkrun.
Run a small business or write checks often? Do you find yourself printing, writing, and mailing checks on a regular basis? How much time does it take away from focusing on your business? By investing in cloud-based software, you can greatly improve your bottom line and record-keeping.
Learn how Checkrun's online check solutions can automate your payments and bring peace of mind to your bookkeeping.