A simpler way to approve & make business payments.
Checkrun offers businesses an all-in-one bill pay solution for QuickBooks Online. Pay any business expense via ACH or pay by check. It's the easiest way to pay vendors – across any device. Hello bill pay efficiency.
Why do businesses use Checkrun?
Take control of your business' cash flow with time-saving automation, processing, and remote access. Improve cash flow, get paid faster, and get more done.
Seamlessly connect Checkrun to your QuickBooks Online account, in real time, to eliminate manual data entry inefficiences and streamline your bookkeeping workflow.
Save time & reduce errors. Automate everything from approval workflows to user roles in one place with Checkrun. Manage multiple accounts with a single login.
Expand the way you pay bills – pay electronically with ACH or even send checks. With Checkrun, business payments are easier, faster, and more secure.
Create, print, and mail checks with ease. Print professional business checks from your home and office–or Checkrun will print and mail the checks on your behalf.
Speed. Security. Scalability.
This is bill pay made easy.
Save time and increase organization, control and efficiency with Checkrun. This secure, paperless solution streamlines and automates your accounts payable processes. It's the easiest way to pay vendors – across any device.
Payments any way you want.
Checkrun automates payments from your business to your vendors – so you don't have to. Expand the way you pay — by ACH or check — from one platform to save time, ensure accuracy, and eliminate late payments.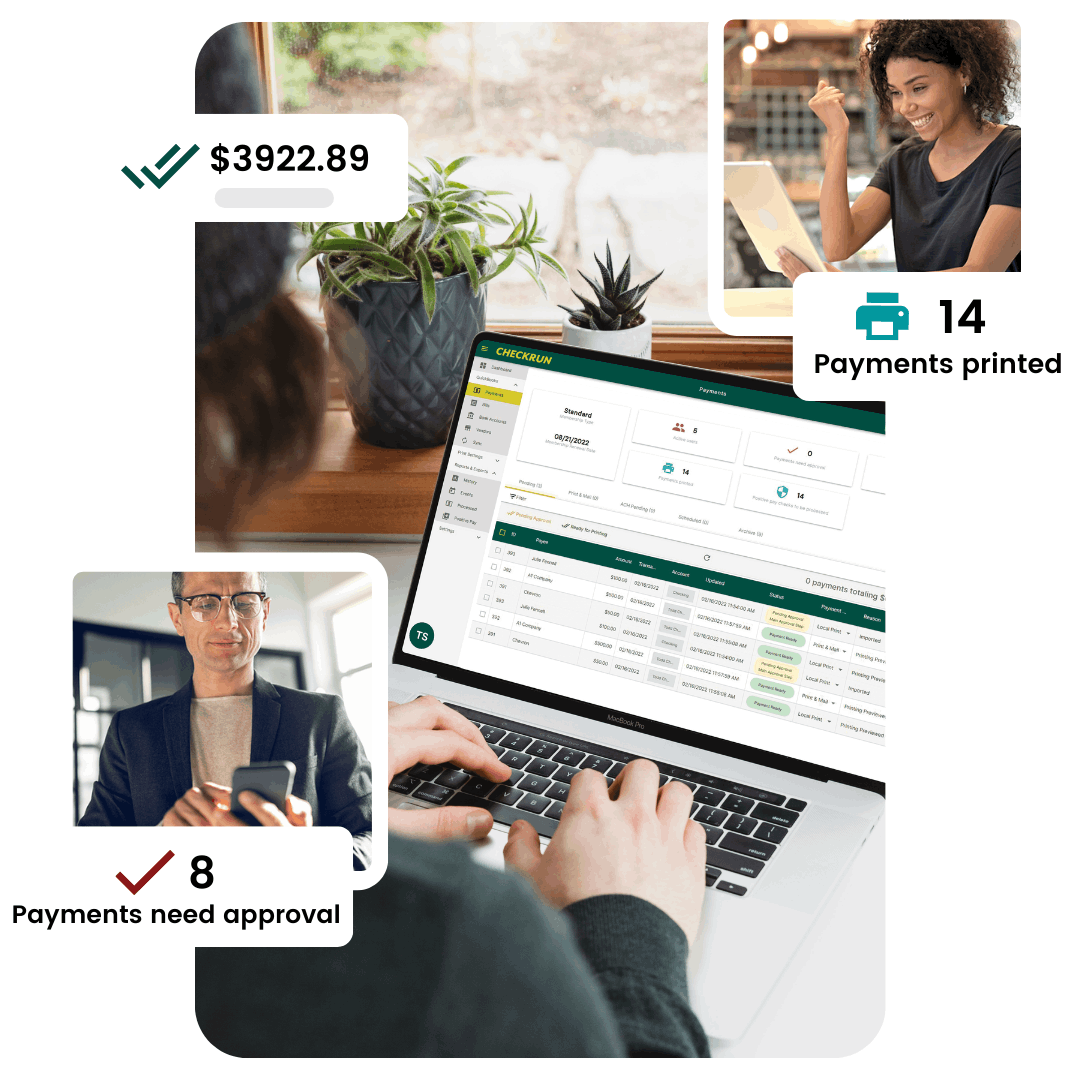 Manage approvals.
Use custom rules to automate, route, and customize payment approvals to the right team member at the right time. Approve and pay bills faster, with fewer resources.
Make fast, secure payments. 
Pay your vendors faster, straight to their bank account, and reduce trips to the bank. ACH payments process faster than checks so you can hold onto your cash longer. Vendor only accepts checks? No problem. You can print and mail business checks online or we'll do it for you, on your behalf, and send them the same-day.
Seamless sync with QuickBooks Online.
Checkrun seamlessly integrates with your QuickBooks Online , powering it with real-time, two-way sync to help you simplify bill pay, save time, and focus on what really counts. Your business.
We believe your business can do more – with less. 
Take control of your business' cash flow with time-saving automation, processing, and remote access. Improve cash flow, get paid faster, and get more done.
Simplify bill pay.
Our bill pay solution helps you pay in real-time, detect and prevent fraud, manage your costs to maximize efficiency, and more. Smarter business payments mean better business opportunities.
Automate approvals from anywhere.
Work doesn't always take place at the desk. With our mobile app, you can become just as productive while on-the-go. Review, approve, schedule and sign payments right from any mobile device.
Improve your cash flow.
Streamline the payment process, without giving up the control you need – like choosing the payment method. Drive down costs and gain real-time visibility into your company's cash flow and financial data to make better, more informed decisions.
Is your organization remote?
Trust is important to us!
"This software was the critical tool that allowed me to make check payments when geographically separated from the company's bookkeeper. This tool provided all the necessary resources to effectively manage this part of the business."
"We all work remotely and Checkrun has a mobile app so we can approve and sign payments right from the app. The signature shows up on the check and the app keeps track of all workflow steps so we never miss a payment. They also have a print and mail service or you can print checks out yourself. It is a nice app that works for us."
"I'm a bookkeeper and I manage several clients. Checkrun has been a huge timesaver for me. My clients can approve and sign payments remotely from their phones without me visiting their remote locations. Setup was fast and easy."
Empower your team with bill pay efficiency.