Stay one step ahead of fraud with TruPrint High-Security Checks
Not all check stock is created equal. TruPrint High-Security Blank Laser Check Stock features industry leading security features designed to keep your checks protected from fraud.
FREE Shipping included on all orders within USA
*Checkrun memberships not included with purchase of check stock
Reduces Risk Of Fraud And Check Forgery
Saves 85% compared to pre-printed check stock
Prints From Multiple Accounts
Works with all standard Laser and Inkjet printers
High-security blank check stock you can trust.
Cut costs while increasing your check processing productivity with Checkrun. We provide TruPrint blank laser check stock that is guaranteed to reduce check fraud while increasing your savings.
Guard against check fraud
To prevent check fraud, risk, and the liability of storing costly pre-printed stock, TruPrint blank check stock contains a combination of both visible/concealed – a paper/ink-based security feature. This combination provides protection from duplication and alteration.
Improve payment processing
Print checks locally or use our convenient same-day print and mail service. Checkrun handles the printing and mailing for you! We eliminate 83% of data entry and digital storage for you, so your team can focus on more enjoyable tasks.
TruPrint blank check stock is a more secure way to cut professional-looking checks and keep overhead and expenses low – without forfeiting security or convenience.
Why do businesses choose TruPrint?
Our TruPrint High-Security Blank Checks are the most secure checks available and trusted by thousands of businesses nationwide. TruPrint Blank Checks are specifically designed with multiple layers of defense and security to protect against fraud.
TruPrint check stock reams are individually wrapped to ensure maximum performance, shelf life, and proper MICR toner transfer.
All TruPrint checks are designed with over 15 built-in advanced security features to prevent check fraud, duplication, and altering.
TruPrint offers 24# long-grain construction to reduce check stock curl tendencies and prevent printer jams or premature drum failure.
Exceptional quality at low prices
Cut costs while increasing your check processing productivity with Checkrun. We provide check stock that is secure and 100% reliable. With Checkrun, you will free up time, inventory space, and expenses without the hassle of dealing with your bank.
Security, compliance and fraud protection.
Protect your checks and financial future. Our check security features are unmatched in the industry and help prevent criminals from gaining control of your personal financial holdings. Our high-quality security paper is Check 21 Compliant for image readiness.
Microprinting
Miniature print that appears as a screened line or border. Verified with magnifying glass. Copied or scanned attempts appear plugged and/or unreadable.
Watermarks
A diamond shaped watermark can be seen only when held at a 45 degree angle and cannot be altered or reproduced.
Black and blue dye
Dyes react to a variety of chemical solvents used to remove information from documents. Black or blue stain clearly visible upon placement of alteration solvents.
Thermochromic ink
Red key disappears when subject to heat or touch (on back for Standard Plus).
Warning borders
A notice or warning designed to advise document handlers and potential fraud artists of specific overt and covert safeguards present. Printed in reverse type on face of document.
Control numbers
Each piece of check stock has a unique number printed in red on the back of the check. Therefore, check stock can be easily inventoried and monitored.
The most secure business checks available from Checkrun.
When it comes to your business, making payments is important. Stay conveniently restocked before you ever run out. Checkrun's TruPrint Security Check Stock can be customized to fit your needs, making us one of the best places to order checks.
TruPrint Blank Laser Check Stock
Starting at $34.25/ream
High-Security Laser Check Stock
Starting at $135/box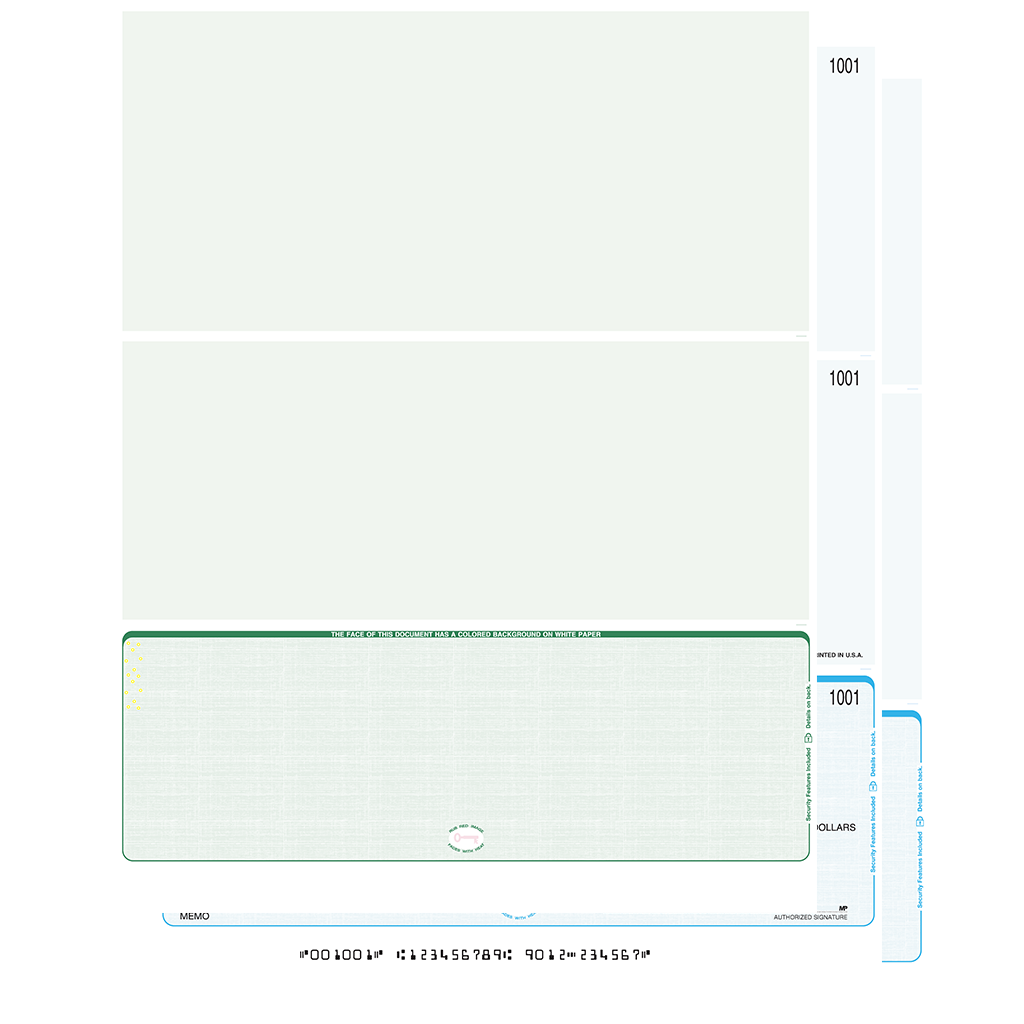 Top, Middle, Bottom Blank Laser Checks
Starting at $34.25/ream
Contact us today for your TruPrint Blank Check Stock order and get 10% off when you spend $100 or more.